Victoria
Victoria is a teenage Jellicle. She is young, playful, and friendly. A very beautiful and graceful cat, she is also very understanding, forgiving, and accepting.
---
Which of those dancing Cats is Victoria?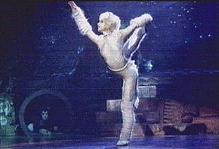 Victoria is easy to locate. She is a solid white cat known for her beautiful dancing. She can usually be found with the other kittens, Jemima, and Mistoffelees. In the second act, she's usually near Plato.
---
Best Scenes
The Invitation to the Jellicle Ball
The Jellicle Ball
---
Performers
Phyllida Crowley Smith
Cynthia Onrubia
Finola Hughes
---
All pictures used with permission from Rumpleteazer's Hideout.

Go back to the Characters page.

Go Home.