Rumpelteazer
Rumpelteazer is one half of the notorious duo of Mungojerrie and Rumpelteazer. She's a very friendly and fun-loving teenage Jellicle. Although the other cats don't approve of her pranks, they can't help loving her.
---
Which of those dancing Cats is Rumpelteazer?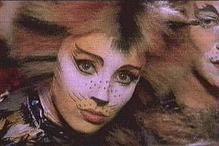 Rumpelteazer is an orange and black cat with a lot of energy and an infectious grin. She is usually with her partner Mungojerrie, or the kittens, Jemima and Victoria.
---
Best Scenes
Mungojerrie and Rumpelteazer
The Pekes and the Pollicles
The Jellicle Ball
---
Performers
Jo Gibb
Bonnie Langford
---
All pictures used with permission from Rumpleteazer's Hideout.

Go back to the Characters page.

Go Home.