Old Deuteronomy
Old Deuteronomy is the leader of the Jellicles. He is very old, but loved and respected by all of the cats.
---
Which of those dancing Cats is Deuteronomy?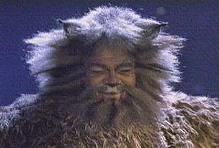 Old Deuteronomy makes a grand entrance. He is a fat brown furball that oversees the proceedings of the ball.
---
Best Scenes
Old Deuteronomy
The Moments of Happiness
The Ad-dressing of Cats
---
Performers
Ken Page
Brian Blessed
---
All pictures used with permission from Rumpleteazer's Hideout.

Go back to the Characters page.

Go Home.