Mistoffelees
Mistoffelees is a magical cat. He's a teenage Jellicle that wants to be an adult, but still has a playful kittenish side. Whenever there's a problem, the other cats know they can depend on the Conjuring Cat for help. Even if his magic doesn't always cooperate...
---
Which of those dancing cats is Misto?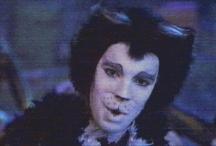 Misto is very easy to find. His fur is black, so his white chest and face stand out. He is a wonderful dancer with several solos, and is usually found with Victoria.
---
Best Scenes
The Invitation to the Jellicle Ball
The Jellicle Ball
Mr. Mistoffelees
---
Performers
Jacob Brent
Timothy Scott
Wayne Sleep
---
All pictures used with permission from Rumpleteazer's Hideout.

Go back to the Characters page.

Go Home.