Mungojerrie
Mungojerrie is one half of the notorious duo of Mungojerrie and Rumpelteazer. He is a fun-loving prankster, rumored to work for Macavity. He is generally well-liked by the other cats.
---
Which of those dancing cats is Mungojerrie?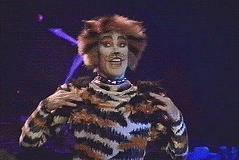 Mungojerrie is an orange and black cat. He is always with his partner Rumpelteazer, or the other males in the tribe.
---
Best Scenes
Mungojerrie and Rumpelteazer
The Pekes and the Pollicles
---
Performers
Drew Varley
---
All pictures used with permission from Rumpleteazer's Hideout.

Go back to the Characters page.

Go Home.