Jemima
Jemima is a cute kitten, perhaps the youngest of the Jellicles. She is friendly and playful, but also has a serious air. She is very accepting and forgiving, and shows an understanding deeper than that of many of the adults.
---
Which of those dancing Cats is Jemima?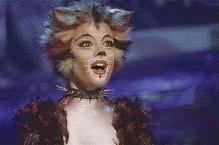 Jemima is the smallest cat, with black and red fur and a white chest. She is a wonderful dancer and singer, and considered by many to be the most catlike of the cats. She can be found with Victoria, Rumpelteazer, Electra, and Etcetera, or swooning over Tugger.
---
Best Scenes
The Moments of Happiness
Memory
---
Performers
Veerle Casteleyn
Whitney Kershaw
Sarah Brightman
---
All pictures used with permission from Rumpleteazer's Hideout.

Go back to the Characters page.

Go Home.